Make Yardwork Fun Again With the Innovative Little Black Rake!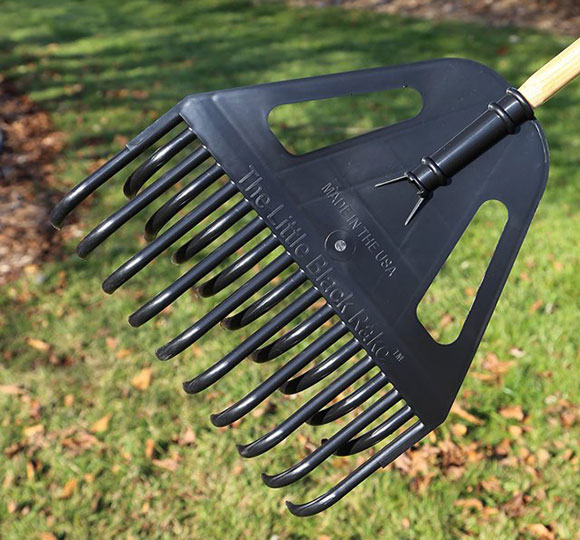 Take the pain out of raking leaves with the lightweight and easy-to-use Little Black Rake! This sturdy double-tined rake is made in the USA of 100% recyclable materials — and is practically indestructible.
Perfect for women, teens and older individuals who often struggle with regular rakes, The Little Black Rake reduces lower back fatigue and raking time — you just need one swipe — allowing you to be more efficient, more productive and enjoy your time outdoors.
This one-of-a-kind tool is great for raking leaves, clearing out beds and around shrubs and for getting out and exercising without the soreness.
Lightweight, Sturdy, More Efficient Rake 
Just as every woman needs a little black dress — they also need a Little Black Rake!
The Little Black Rake combines sturdy, yet lightweight materials with superior efficiency and functionality — resulting in an amazing one-of-a-kind solution for yard maintenance. Although originally designed for women and seniors, the Little Black Rake remains an extremely useful and comfortable tool for any homeowner, gardener or landscape professional.
Featuring a strong, durable head and double tines, the Little Black Rake's 'ground-raking' design helps you to grab more leaves with just one swipe. Extremely lightweight weighing in at just over a pound, the Little Black Rake reduces lower back fatigue and increases your ability to rake more leaves for extended periods of time. 
Crafted entirely in the USA, in Michigan, of 100% recyclable materials chosen both to last and be earth-friendly, the Little Black Rake is practically indestructible.
For more information about the Little Black Rake, or to order yours now, please contact us here.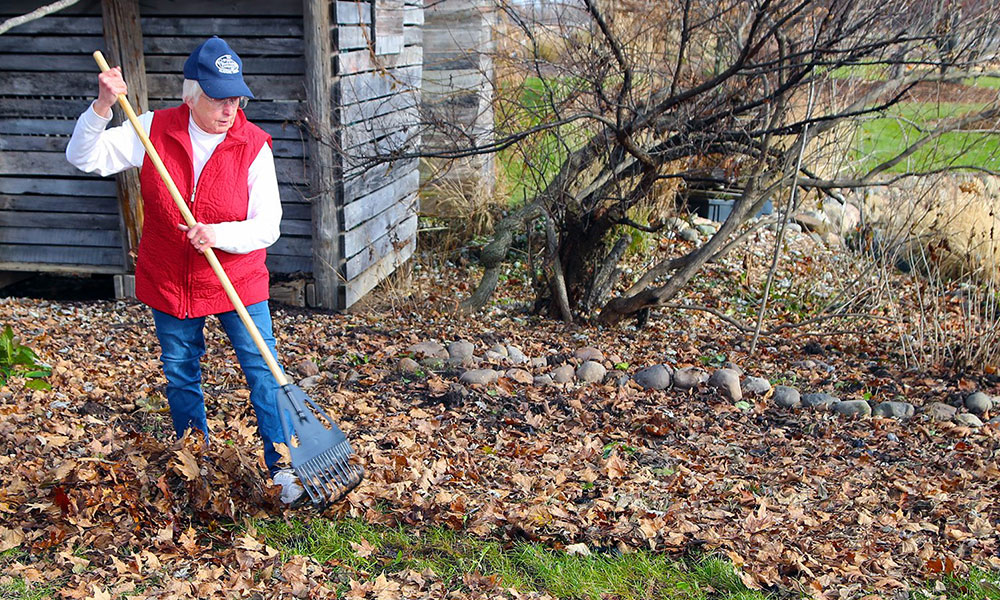 I truly love this rake! Now I can rake my entire yard in less time and without being sore the next day. It's amazing how much more I can grab with less effort! I am very happy with the Little Black Rake!

I give the Little Black Rake two thumbs up! I have several sheep and a llama and the rake works very well to help keep the barn and pasture clean and neat. The double set of tines is very efficient at raking up waste piles and spreading bedding. Because the tines are spaced farther apart than on a regular leaf rake, they don't get clogged full of straw bedding that I have to clean out by hand. The rake is lightweight and the handle a good length. An all around good design. I definitely recommend this rake.

I really like using the black rake!! It is the best rake that I have ever used before!! Don't let the size fool you! Since it's so lightweight, I was able to rake for a much longer time than using my larger rake, which is 3 times heavier. It is also easier to get into narrow spots. The design catches much more than my traditional rake. Awesome rake, 10 stars!!!

The "Little Black Rake" works great!

I purchased the Little Black Rake at the Madison, Wisconsin Garden Expo. I knew I would find some uses for a light little rake, but I honestly did not expect it to immediately become my favorite and most used rake. It's easier to use than a standard leaf rake, or large and clunky double tined rakes. It is also superior to a collapsible aluminum wire rake in most situations. It is super lightweight and has great sweeping action. I use it for garden clean up to sweep up pulled weeds. I use it to clean up after edging and for many other jobs where a broom-like rake action is desired. The rake has made my gardening and yard maintenance significantly easier. I highly recommend it.
Our Lightweight and Easy-to-Use Rake Puts Less Strain On Your Back!